Download Postmates - Food Delivery for iPhone, iPad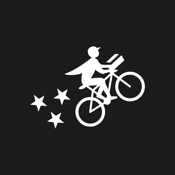 Category: Food & Drink
Updated: Mar 21, 2018
Version: 4.0.11
Size: 116.7 MB
Developer: Postmates Inc.
Rated 4+
Compatibility: iPhone X, iPhone 8Plus, iPhone 8, iPad 74, iPad 73, iPad 72, iPad 71, iPad 612, iPad 611, iPhone 7Plus, iPhone 7, iPhone SE, iPad Pro97 Cellular, iPad Pro97, iPad Pro Cellular, iPad Pro, iPad Mini 4 Cellular, iPad Mini 4, iPhone 6sPlus, iPhone 6s, iPod TouchSixthGen, iPad Mini 3 Cellular, iPad Mini 3, iPad Air 2 Cellular, iPad Air 2, iPhone 6Plus, iPhone 6, iPad Mini Retina Cellular, iPad Mini Retina, iPad Air Cellular, iPad Air, iPhone 5s, iPhone 5c, iPad Mini 4G, iPad Mini, iPad FourthGen 4G, iPad FourthGen, iPod TouchFifthGen, iPhone 5, iPad ThirdGen 4G, iPad ThirdGen, iPhone 4S, iPad 2 3G, iPad 2 Wifi
Show all
Description
Postmates makes local delivery fast and easy! Order from any restaurant or store and a member of our fleet will pick it up and bring it straight to you!

Order Anything: We deliver from virtually any store or restaurant in your city. Order late night meals, last-minutes birthday gifts, cleaning supplies—anything!

Delivery Anywhere: We'll deliver to your home, dorm, office, a park for a meeting, a fancy dinner party —wherever you're at!

Postmates Unlimited: Subscribe to our new Postmates Unlimited program for $9.99/ month and you'll get free delivery on all orders over $20!

Real-Time Tracking: Keep tabs on your delivery progress on a live map!

Speed: Our system takes into account time and distance to ensure your order is assigned to the best possible Postmate, for the fastest possible delivery

We're Always Open: Postmates is a 365 days a year, 24/7 service. 

Customer Service: Need help? Our world-class customer service team is available 24/7.

Postmates is active in most US cities, including:
Atlanta
Austin
Baltimore
Bellevue
Boston
Brooklyn
Charlotte
Chicago
Columbus
Dallas
Denver
East Bay
Evanston
Fort Lauderdale
Honolulu
Houston
Indianapolis
Jersey City
Kansas City
Las Vegas
Long Beach
Los Angeles
Louisville
Miami
Milwaukee
Minneapolis
Nashville
New Orleans
New York City
Oklahoma City
Orange County
Orlando
Palm Springs
Philadelphia
Phoenix
Pittsburgh
Portland
Raleigh
Sacramento
San Antonio
San Bernadino
San Diego
San Francisco
Seattle
SF Peninsula
St. Louis
Tampa
Tuscon
Virginia Beach
Washington DC

International:
Mexico City

At Postmates, we aim to transform the way goods move around cities by providing a delivery service on-demand. We thrive to empower communities to shop local.
Show more
What's New in Version 4.0.11
AVAILABLE LATER

Kidding, we're always open, but sometimes your favorite store isn't. Believe me, I'd work the counter for you if I could. Instead, I've added a "Notify Me" button on each merchant page if they're closed. We'll let you know when they're back open for business.

We'll also let you know when Trump's Space Force is ready to rain 'Murica on the unsuspecting peoples of outer space. (Hint: Hiring people who float your ego with unrealistic expectations leads to some crazy ideas.)

Here it is, your moment of zen, 1 code good for 1 free delivery for the first 100 new customers: SPACEFORCE
Screenshots for iPhone, iPad