Download PicsArt Photo & Collage Maker for iPhone, iPad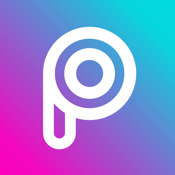 Category: Social Networking
Updated: Mar 18, 2018
Version: 9.32
Size: 146 MB
Developer: PicsArt, Inc.
Rated 12+
Compatibility: iPhone X, iPhone 8Plus, iPhone 8, iPad 74, iPad 73, iPad 72, iPad 71, iPad 612, iPad 611, iPhone 7Plus, iPhone 7, iPhone SE, iPad Pro97 Cellular, iPad Pro97, iPad Pro Cellular, iPad Pro, iPad Mini 4 Cellular, iPad Mini 4, iPhone 6sPlus, iPhone 6s, iPod TouchSixthGen, iPad Mini 3 Cellular, iPad Mini 3, iPad Air 2 Cellular, iPad Air 2, iPhone 6Plus, iPhone 6, iPad Mini Retina Cellular, iPad Mini Retina, iPad Air Cellular, iPad Air, iPhone 5s, iPhone 5c, iPad Mini 4G, iPad Mini, iPad FourthGen 4G, iPad FourthGen, iPod TouchFifthGen, iPhone 5, iPad ThirdGen 4G, iPad ThirdGen, iPhone 4S, iPad 2 3G, iPad 2 Wifi
Show all
Description
500 million installs strong, PicsArt is the #1 photo editor and pic collage maker on mobile. Download PicsArt and enjoy our tools, effects, collage maker, camera, free clipart library, millions of user-created stickers and our drawing tools. PicsArt's all about making awesome pictures and having fun by remixing free-to-edit pictures into awesome collages and memes.

With our collage maker, drawing tools, photo editor, camera and more, PicsArt's your all-in-one creative suite. And it's FREE. 

Show off your awesome edits on Instagram with #picsart, we'll feature our favorite ones!

Go Gold! PicsArt Gold give you access to THOUSANDS OF PREMIUM STICKERS, FONTS, FRAMES, COLLAGES AND MASKS! All these exclusive PicsArt items can be used in your editing and remixing on PicsArt, and shared on and off PicsArt in your creations. Additionally, PicsArt Gold includes an ADS-FREE editing experience and NEW EXCLUSIVE PicsArt content delivered to you bi-weekly. You'll have access to over $2,500 in premium content for just a nominal monthly or annual subscription fee!

COLLAGE MAKER AND GRIDS
PicsArt's collage maker provides 100s of free templates, and the PicsArt community uploads 1000s of new images every day that can be used as backgrounds. PicsArt lets you make grid style pic collages, templated collages and freestyle arrangement collages. If you're looking for an easy way to make a great collage, we've got you covered.

PHOTO EDITOR
With 1000s of amazing features, PicsArt's photo editor has everything you need to make every picture awesome. It includes tools to create cutouts, crop, stretch, clone, add text and adjust curves. It also has a full library of artistic photo filters (including HDR), frames, backgrounds, borders, callouts and more. All tools have a brush mode for fine-tuning and applying selectively on just part of your photo. PicsArt provides 100s of fonts for adding text to your pictures and making killer text overlays. PicsArt also provides a rapidly evolving set of AI-powered, Prisma-style effects.

PicsArt is also your go-to for making awesome double exposure photo edits. You can make double exposures using layers with adjustable transparency. You can also create memes by applying text on free-to-edit pictures, pictures from friends or your own pictures.

FREE STICKERS, CLIPART & STICKER MAKER
PicsArt's Cutout (scissors) Tool lets you make and share custom stickers for everyone to use. The PicsArt community has already created millions of free custom stickers and clipart. They're creating more every day, and they're all up for grabs for you to use in messaging and remixing — for free. You can use the custom stickers however you want - from adding them to your pictures, using them for remixing others' images, or even saving them to your collections and sharing them via iMessage. Be sure to install our iMessage app! 

DRAWING & CAMERA
PicsArt Draw includes customizable brushes, layers and professional drawing tools. Additionally, the PicsArt Camera lets you snap pictures with live effects and is your new go-to sticker maker. Yup, you can create stickers right from your camera captures — it's that easy!

PHOTO REMIX AND FREE-TO-EDIT IMAGES
We *invented* image remixing on mobile! It means you can take any image that's free-to-edit in PicsArt, add your own personal touch by editing it and then share it back to the PicsArt community. 

EDIT WITH FRIENDS - REMIX CHAT!
PicsArt's Remix Chat is a whole new way to edit with your friends and make awesome pictures. Share photos 1:1 or with your chat group, where you and your friends can do quick remixes, together. 

CREATIVE CONTESTS AND PHOTO CHALLENGES
PicsArt's Photo Challenges and Contests are an easy and fun way to learn new editing tricks. Daily challenges are a popular way to find inspiration every day, where users upload thousands of amazing photos, collages and edits. 

PicsArt provides all these creative tools for FREE, and makes it easy and fun to make awesome pictures.
Show more
What's New in Version 9.32
Attack of the clones! With our improved Selection tool, you can auto-detect any person, cut them out, clone and edit with just a few taps. Plus! Curate and create collections of all your favorite images with our new and improved Collections feature.
Screenshots for iPhone, iPad