Download SUBWAY® App for iPhone, iPad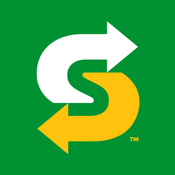 Category: Food & Drink
Updated: Dec 22, 2017
Version: 7.2.0
Size: 126.3 MB
Developer: SUBWAY Restaurants
Rated 4+
Compatibility: iPhone X, iPhone 8Plus, iPhone 8, iPad 74, iPad 73, iPad 72, iPad 71, iPad 612, iPad 611, iPhone 7Plus, iPhone 7, iPhone SE, iPad Pro97 Cellular, iPad Pro97, iPad Pro Cellular, iPad Pro, iPad Mini 4 Cellular, iPad Mini 4, iPhone 6sPlus, iPhone 6s, iPod TouchSixthGen, iPad Mini 3 Cellular, iPad Mini 3, iPad Air 2 Cellular, iPad Air 2, iPhone 6Plus, iPhone 6, iPad Mini Retina Cellular, iPad Mini Retina, iPad Air Cellular, iPad Air, iPhone 5s, iPhone 5c, iPad Mini 4G, iPad Mini, iPad FourthGen 4G, iPad FourthGen, iPod TouchFifthGen, iPhone 5, iPad ThirdGen 4G, iPad ThirdGen, iPhone 4S, iPad 2 3G, iPad 2 Wifi
Show all
Description
Hungry? With the SUBWAY® App you can find a restaurant, order your favorite sandwich or salad and pay ahead, all in seconds. 

FIND: On-the-go? We got you. Find a SUBWAY® Restaurant near you, get directions, view hours and other things you want to know – like if the restaurant has a drive thru or serves breakfast. 

CUSTOMIZE: Like extra olives? Us too. Customize your sandwich just like you would in the restaurant. Swap your cheese, pick your toppings, toast your bread – the opportunities are endless.  

TOP IT OFF: Not sure what to add to your sandwich? Leave it to the experts. Add a sandwich with suggested toppings directly to your bag - keeping decisions low but deliciousness high. 

SAVE A FAVE: Have a "usual"?  Don't waste time digging through past orders. Save your fave to make reordering a snap.  

PAY: No wallet? No problem. Pay for your food ahead of time through the App or in-store using your mobile wallet. 

What are you waiting for? Download the App and start eating! 

For any questions, you can contact us here: AppFeedback@subway.com

Mobile ordering is only available at Participating restaurants.

SUBWAY® is a registered trademark of Subway IP Inc. 
© 2017 Subway IP Inc. All Rights Reserved
SUBWAY Restaurants Web Site SUBWAY® App Support Application License Agreement
Show more
What's New in Version 7.2.0
The latest version of the Subway app has some seriously delicious improvements!

•Find a Subway, anywhere! Find the Subway that's closest to you, or a restaurant near any town or city you're traveling to. From Tomato, Arkansas to Sandwich, Illinois, to Turkey, Texas – we've got you covered!
•"Uh-oh, something went right!" We've scoured our errors, fixing many of them, and making dozens of pop-ups more instructive. You should encounter fewer errors, and when you do, our latest release will help guide you towards solutions. 
•Show me the money! Your Subway Card balance now shows more prominently, so you know how much you're able to spend when ordering sandwiches and other tasty items on-the-go.
•We've cleaned up some crumbs. This release also includes lots of other tidying inside the mobile app.
Screenshots for iPhone, iPad