Download Gin Rummy Plus - Card Game for iPhone, iPad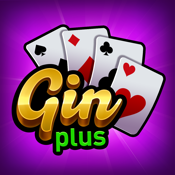 Category: Games
Updated: Jan 20, 2018
Version: 3.2.0
Size: 190.3 MB
Developer: Zynga Inc.
Rated 12+
Compatibility: iPhone X, iPhone 8Plus, iPhone 8, iPad 74, iPad 73, iPad 72, iPad 71, iPad 612, iPad 611, iPhone 7Plus, iPhone 7, iPhone SE, iPad Pro97 Cellular, iPad Pro97, iPad Pro Cellular, iPad Pro, iPad Mini 4 Cellular, iPad Mini 4, iPhone 6sPlus, iPhone 6s, iPod TouchSixthGen, iPad Mini 3 Cellular, iPad Mini 3, iPad Air 2 Cellular, iPad Air 2, iPhone 6Plus, iPhone 6, iPad Mini Retina Cellular, iPad Mini Retina, iPad Air Cellular, iPad Air, iPhone 5s, iPhone 5c, iPad Mini 4G, iPad Mini, iPad FourthGen 4G, iPad FourthGen, iPod TouchFifthGen, iPhone 5, iPad ThirdGen 4G, iPad ThirdGen, iPhone 4S, iPad 2 3G, iPad 2 Wifi, iPhone 4
Show all
Description
Join the world's most popular Gin Rummy Game and play live with millions of real players.

Playing Gin Rummy with friends, family, and millions of players worldwide has never been easier! 
Join one of the largest online gaming communities and enjoy an all-new multiplayer experience, competitive leaderboards.

SPECIAL FEATURES

● EXCLUSIVE EVENTS – New game modes, free chip events.
● ENJOY UNIQUE MULTIPLAYER MODE - Compete with hundreds of thousands elite Gin Rummy players all around the world and prove you're the champion of the leaderboard.
● PROGRESSIVE JACKPOTS - Double Your Gin Rummy Fun with the biggest win of your life!
● PLAY WITH BUDDIES - Invite your friends and have much more fun anytime, anywhere.
● SOCIAL EXPERIENCE - Play with your friends or make new ones, Gin Rummy Plus has the strongest community of any Gin Rummy game.
● LEADERBOARDS - See how you stack up against other players or your friends.
● FREE BONUSES - Countless opportunities to earn free coins, easier than ever!

Experience a variety of high-quality Gin Rummy Lounges for ultimate fun like never before!

Players Love Gin Rummy Plus:

* * * * * "The Most Authentic Gin Rummy Game on the App Store."* * * * * 
* * * * * "I've tried all the major Gin Rummy apps, this game sets a whole new standard" * * * * *
* * * * * "Great game, great service, great experience! 5-stars all around!" * * * * * 
* * * * * "I love the treatment – I feel like a VIP!"* * * * * 
* * * * * "Beautifully realistic graphics, sounds and super fun to play with friends."* * * * *

Use of this application is governed by Zynga's Terms of Service, found at www.zynga.com/legal/terms-of-service.

For information about how Zynga uses personal data, please read our privacy policy at http://www.zynga.com/privacy/policy.

Additional information:
The game is free to play; however, in-app purchases are available for additional content and in-game currency. In-app purchases range from $0.99 to $99.99 USD.
Show more
What's New in Version 3.2.0
Hey, all you Gin Rummy Plus enthusiasts!
You asked for it, we made it happen!
Get the latest version for all of the available features and improvements.

Keep those amazing 5 stars reviews coming, so we can keep dealing out the best Gin Rummy experience out there!
Screenshots for iPhone, iPad