Download AccuWeather: Weather for Life for iPhone, iPad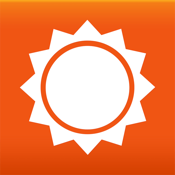 Category: Weather
Updated: Jan 17, 2018
Version: 11.2
Size: 201.6 MB
Developer: AccuWeather International, Inc.
Rated 4+
Compatibility: iPhone X, iPhone 8Plus, iPhone 8, iPad 74, iPad 73, iPad 72, iPad 71, iPad 612, iPad 611, iPhone 7Plus, iPhone 7, iPhone SE, iPad Pro97 Cellular, iPad Pro97, iPad Pro Cellular, iPad Pro, iPad Mini 4 Cellular, iPad Mini 4, iPhone 6sPlus, iPhone 6s, iPod TouchSixthGen, iPad Mini 3 Cellular, iPad Mini 3, iPad Air 2 Cellular, iPad Air 2, iPhone 6Plus, iPhone 6, iPad Mini Retina Cellular, iPad Mini Retina, iPad Air Cellular, iPad Air, iPhone 5s, iPhone 5c, iPad Mini 4G, iPad Mini, iPad FourthGen 4G, iPad FourthGen, iPod TouchFifthGen, iPhone 5, iPad ThirdGen 4G, iPad ThirdGen, iPhone 4S, iPad 2 3G, iPad 2 Wifi
Show all
Description
This free, award-winning weather app features AccuWeather MinuteCast®, the leading minute-by-minute precipitation forecast, hyper-localized to your exact street address. AccuWeather offers the same Superior Accuracy™ and great experience across all iOS devices, including Apple Watch™.
 
•  AccuWeather MinuteCast® – minute-by-minute precipitation forecasts for the next two hours hyper-localized to your exact street address or GPS location. Available for the contiguous United States, Canada, Sweden, Denmark, United Kingdom, Ireland, Japan, France, Spain, Germany, Belgium, Switzerland, Netherlands, Luxembourg, and a growing list of global locations.  
 
•  Apple Watch Support – featuring AccuWeather MinuteCast, current conditions details, and severe weather alerts. When there is a severe weather alert for your favorite location, you will be notified by a tap sensation from the Watch and a low audible sound. Current conditions details include location, temperature and high and low for the day, wind speed, times for sunrise or sunset, and RealFeel Temperature® – AccuWeather's exclusive forecast that shows the user how the temperature actually feels outside.
 
•  AccUcast™ – Become part of the forecast by sharing your weather observations to help people in your community stay safe from hazardous weather and road conditions. View the real-time crowdsourced map with weather conditions submitted by users all over the world in a global animation display.
 
•  Option to automatically download the app to all of your iOS devices.
 
•  Widget available so you can see a summary of what you can expect from the day's weather on your Today screen in the Notification Center, includes AccuWeather MinuteCast.
 
•  Pushed severe weather alerts to keep you out of the storm.
 
•  Immediately descriptive weather animations illustrating the current weather conditions.
 
•  Animated weather radar and maps for tracking the storm's path. Weather radar available in the United States, Canada, European locations including United Kingdom, Ireland, Germany, France, Spain, Germany, as well as Japan and Korea.
 
•  Top-Trending weather videos from AccuWeather's News Team
 
•  Forecasting for all your favorite locations – every location on Earth.
 
Other popular features include:
 
•  Your Daily Snapshot including MinuteCast® shown front-and-center when you open the app – a summary of what you can expect from the day's weather.
 
•  The Local Forecast Summary, a brief summary of what you can expect from the weather over the next 3-5 days for your location.
 
•  Customizable current weather conditions detail – hide the details that you don't care about.
 
• Option to select persistent GPS tracking to get your current weather data as quickly as possible. (Please Note: Continued use of GPS running in the background can dramatically decrease battery life.)
 
Download AccuWeather – Weather for Life today for free and experience the Superior Accuracy™ that comes from high-quality weather forecasting across your iOS devices.
Show more
What's New in Version 11.2
Bug fixes and performance improvements.

If you enjoy using this app, please consider writing a review. The feedback we get from you helps us continue improving the product.
Screenshots for iPhone, iPad